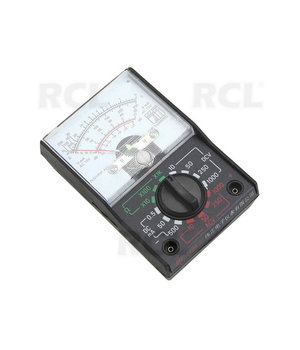 Multimeter MF-110A
Code
ATR110
E-shop price: 4,90 €
| | | |
| --- | --- | --- |
| Amount: | 4+ | 8+ |
| Price: | 4,65 | 4,51 |
| | | |
Minimum order: 1 Repeatability : 1
Item location:
Central warehouse in Kaunas
Item available (8)
Shop in Vilnius
Item available (2)
Shop in Kaunas
Item available (4)
---
Item description
This product is new design and compact structure with high quality low price and large measuring span.
It can be used in factories,miners, schools, households and electrical maintenance.
It is especially suitable for electrical teaching course and radio experiments of primary school.
It has an excellent mechanical strength and high grade of electrical insulation.
High quality mini Multimeter, wonderful instrument for electronic engineer!
Specification :
Model : MF-110A
DC Voltage Range : 0 - 10 - 50 - 250 - 1000V
AC Voltage Range : 0 - 10 - 50 - 250 - 1000V
DC Current Range : 0 - 0.5 - 50 - 250mA
Ohm Meter : Rx1K, Rx100K, Rx10K
Decibels : -20dB to +22dB on AC Voltage Ranges
Power Supply : 1 x AA Battery(Not Included)