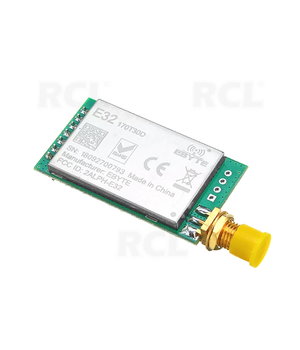 BEVIELIO RYŠIO modulis LORA E32 433MHZ 3000m SX1278/SX1276
Kodas
ABRL32E
Eshop kaina: 18,70 €
| | | |
| --- | --- | --- |
| Kiekis: | 3+ | 5+ |
| Kaina: | 18,33 | 18,14 |
| | | |
Min. užsakymas: 1 Kartotinumas: 1
Prekės buvimo vietos:
Biuras/Centrinis sandėlis Kaune
Prekę turime (1)
Prekių atsiėmimo punktas VILNIAUS parduotuvėje
Prekę turime (1)
Prekių atsiėmimo punktas KAUNO parduotuvėje
Prekę turime (1)
---
Prekės aprašymas
Module introductions
AS32-TTL-100 is a 100mW, industrial-grade wireless data transmission module with high stability.The module uses SX1278 main chip, LORA spread spectrum transmission, TTL level output,compatible with 3.3V and 5V IO port voltage. And the module on the basis of the old version has been upgraded as following: the use of efficient loop interleaving error correction coding algorithm, the coding efficiency, error correction capability. In the case of sudden interference,it can actively correct the disturbed data packets. The maximum continuous error correction 64bit greatly improves the module's anti-jamming and transmission distance, and in theabsence of error correction algorithm, this error packet can only be discarded; The LORA spread spectrum gives the module greater communication distance.
The module has four operating modes that can be switched freely at run time. In power saving mode,the current consumption is only a few dozen uA, ideal for ultra low power applications.
AS32's operating frequency is 410MHz ~ 441MHz, a total of 32 information channels, each channel's interval is 1M. The serial port baud rate ,transceiving frequency, transmitting power, RF rate and other parameters can be modified on Online.
Features of the products:
Working frequency band: 433MHz no application frequency band a variety of power levels (maximum 100mW) a variety of baud rates, a variety of RF rates four kinds of work modes ultra low power consumption sleep current is only 1.5uA support the air wake-up function double 256 loop FIFO efficient cycle of intertwined error correction coding, the maximum error correction 64bit built-in watchdog, never crash frequency 410- 441M, providing 32 channels Receive sensitivity up to -130dBm, transmission distance of 3000 meters Automatic subcontracting transmission to ensure the integrity of the packet support module voltage read function
Typical application:
Hotel electronic door locks, biometric access control management system Medical and electronic instrumentation automation control Intelligent teaching equipment, baby care, medical ward call system Home appliances and intelligent lighting control Anti-theft alarm smart card, railway locomotive remote detection Water, electricity, gas, heating automatic meter reading system or reactive power compensation and power grid monitoring LED screen wireless transmission of text, pictures and wireless control Wireless crane scale, vehicle monitoring, aging equipment testing Industrial equipment data wireless transmission and industrial environmental monitoring Video monitoring PTZ control, access control attendance card reader Weather / oil / water equipment information collection and natural environment detection street lamp detection control Mine attendance positioning system, gas detection alarm