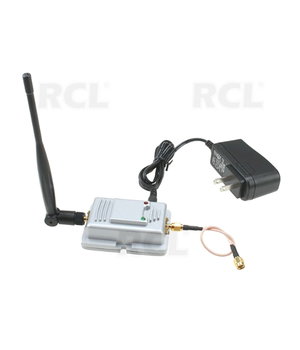 WIFI STIPRINTUVAS (Booster) 2.4GHz galingumas 2000mW / 33dBm, jungtis SMA
Kodas
AKOM017
Eshop kaina: 39,90 €
| | | |
| --- | --- | --- |
| Kiekis: | 3+ | 5+ |
| Kaina: | 39,10 | 38,30 |
| | | |
Min. užsakymas: 1 Kartotinumas: 1
Prekės buvimo vietos:
Biuras/Centrinis sandėlis Kaune
Prekę turime (2)
Parduotuvė Vilniuje
Prekę turime (1)
Parduotuvė Kaune
Prekę turime (1)
---
Prekės aprašymas
Simply attach the booster in between the standard antenna on a wireless router or wireless access point and watch your range grow.
High Gain, High Value, High Performance.
Low-noise receives gain.
Ideal for use with 2.4GHz Wireless LANs, Support 802.11b, 802.11g (2.4 GHz mode only).
Ideal for increase the 2000-2500 MHz frequency devices.
Signal activity LED indicates.
Maximum output power of 2000mW by the Booster.
Plug-and-play, Easy installation, no driver needed.
Increase the effective range and coverage area of your Wi-Fi network.
The amplified wireless signal may even penetrate complex environments with many walls and obstacles.
NOTE: The item need connect with the Access Point Router together, then it can work and the Access Point Router is NOT included.
Specifications:
Operation Range: 2400-2500 MHz

Operation Mode: Bi-directional, half-duplex, auto-switching via carrier sensing

Frequency Response: ¡À 1dB over operation range

Input Power: 6dBm (Min.)-20dBm (Max.)

Input Power: 5 ~ 20 dBm

Optimal Input Power: 9 ~ 13 dBm

Output Power: 2000mW/33dBm nominal for 802.11b/11Mbps

Connector: SMA Receptacle, 50 ohm

Transmit Gain: 13-17dBm nominal

Receiver Gain: 8-12dBm

Receive Noise Figure: 3.0dBm nominal

Operating Temperature: 20 to 70 degree

Operating Humidity: Up to 95% relative humidity

Material: Cast Aluminum

Size: 9cm5.6cm3.1cm
Package Included
1 x Booster
1 x Power plug
1 x 15cm SMA cable
1 x 5 dBi antenna
1 x Instruction