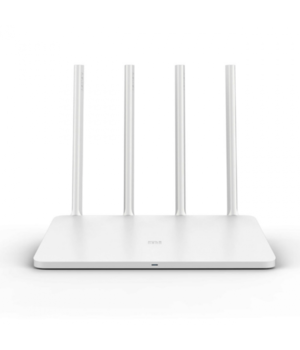 Kompiuterio maršrutizatorius MI Router 3C 300 Mbit/s; 2.4GHz; Wi-Fi 802.11n
Kodas
AKOMMI3C
Eshop kaina: 17,90 €
| | | |
| --- | --- | --- |
| Kiekis: | 2+ | 3+ |
| Kaina: | 17,54 | 17,36 |
| | | |
Min. užsakymas: 1 Kartotinumas: 1
Prekės buvimo vietos:
Centrinis sandėlis Kaune
Prekės neturime (0)
Parduotuvė Vilniuje Nr. 1
Prekę turime (1)
Parduotuvė Kaune Nr. 1
Prekės neturime (0)
---
Prekės aprašymas
Have you ever meditated on an online movie progress bar or participated in a family debate each time you wanted to download a large file? If someone calculated an average time people spend troubleshooting internet connection, it would be equivalent to at least one day of their lives.
Xiaomi knows the value of our time. A new Mi WiFi Router 3C is best positioned to help deal with quirks of internet connection and provide a hassle-free internet session for every member of the family. It is equipped with a signal amplifier, connects to a mobile app and provides a high level of safety and security.
Four see more than two
Xiaomi Mi WiFi 3C carries 4 high-gain omnidirectional antennas, providing a stable internet connection and spreading powerful WiFi signal to every corner of your house. Such configuration is the best bet to juggle multiple members in the network. In comparison with a previous model, this router has simplified tech characteristics: WiFi 802.11 b / g / n IEEE, 2.4 GHz frequency and speed up to 300 Mb / s. The router works flawlessly and fulfills the needs of the whole family.
10/100M 2
WPA - Wi-Fi Protected Access
WPA2 - Wi-Fi Protected Access
Wireless Frequency Range 2.4GHz
Included Accessories 1x Power supply; 1x Manual
Colour White
Dimensions 195x107x178.9mm