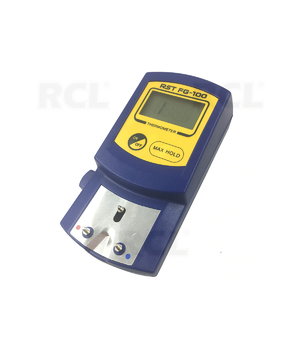 TESTERIS lituoklio antgalio temperatūrai FG-100 0-700 laipsn.C
Kodas
ATS011
Eshop kaina: 22,50 €
| | | |
| --- | --- | --- |
| Kiekis: | 3+ | 5+ |
| Kaina: | 21,15 | 20,92 |
| | | |
Min. užsakymas: 1 Kartotinumas: 1
Prekės buvimo vietos:
Biuras/Centrinis sandėlis Kaune
Prekę turime (1)
Parduotuvė Vilniuje
Prekės neturime (0)
Parduotuvė Kaune
Prekės neturime (0)
---
Prekės aprašymas
Tip thermometer providing reliable temperature control of soldering iron tips. Compact design saves your workspace and allows you to easily carry it around. Extremely fine sensor with high temperature reactivity is incorporated.
Features :
Suitable for Lead-Free Solder
· Good temperature response using a fine CA wire sensor (φ0.2mm)
· Disposable sensor always maintains accurate temperature measurment
(Replace sensor when the measuring point underwent degradation) · Sensor has the twice service life than conventional ones.
Dimensional Measurement
· Allows you to measure from any desired direction according to tip shape
Auto Shut-Off Function
· If no measurement operation is performed within 3 minutes, the power will be automatically shut off.
MAX HOLD Function
· When the button "MAX HOLD" is pressed, "MAX HOLD" will be displayed and the highest temperature of Iron will be held in the display.
Easy-to-read temperature
· Large and clear display
· Digital temperature display make to read it accurately
Compact Size
· Convenient to carry and saves your workspace
Specification :
Model No. FG-100
Power supply 006P 9V dry battery
Temperature resolution 1ºC
Temperature measurement range 0 to 700ºC
Temperature precision ±3ºC (300 to 600ºC)
±5ºC (other than above)
Temperature sensor K (CA)type thermocouple
Display LCD : 3 1/2digits
Besides measured temperatures,display indications include the following:
Battery low alarm
Burnout alarm
MAX HOLD : 'MAX HOLD' is displayed at the lower right of the LCD.
Operating environment Ambient temperature/humidity range : 0 to 40ºC, 20 to 90%RH (without condensation)
Environmental conditions Applicable rated pollution degree 2 (According to IEC/UL 61010-1)
Dimensions 68(W) x 140(H) x 38(D) mm