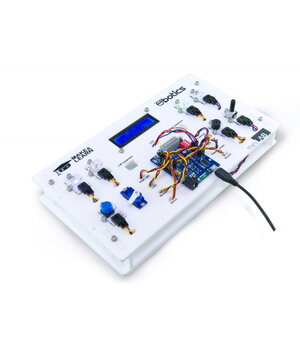 Ebotics Mini Lab Electronic
Code
ABRR19
E-shop price: 42,00 €
Minimum order: 1 Repeatability : 1
Item location:
Central warehouse in Kaunas
Item is not available (0)
Shop in Vilnius
Item available (1)
Shop in Kaunas
Item available (1)
---
Item description
"Mini Lab for electronics and programming
Immerse yourself in the world of computer programming
With the Mini Lab Electronics and Programming Lab for beginners, you will learn how to program and control the most important electronic components in mechatronics.
For users of all levels and ages
"The Mini Lab is an electronic programmable lab with everything you might need to learn and teach programming. It is an educational robotics kit for anyone who wants to learn about robotics and programming.
It has a wide range of programming options for different programming complexities and is fully compatible with software commonly used in educational robotics. This makes it ideal for educational centres that are active in STEAM (Science, Technology, Engineering, Arts and Mathematics).
Compatible with Arduino and other visual programming units
"The Mini Lab kit works with the Build & Code 4in1 board and is compatible with the most popular software in educational robotics: Arduino, Bitbloq and other visual programming block software. You can download any project developed on these platforms and use it for the Mini Lab kit.
It also includes a Bluetooth module for creating simple mobile apps. This way, you can control electronic components using your smartphone or tablet and get a closer look at the Internet of Things (IoT).
Maximize your possibilities with free online resources
You'll have access to projects specifically designed for this kit to develop your knowledge of robotics and programming, and to introduce you to the control of different components.
"The Build & Code 4in1 board is open source, so you can find lots of free tutorials and exercises online to help you get the most out of the electrical components in this programmable robotic arm kit. You also have access to Arduino online communities to help you with any questions you may have.
Technical specifications:
"Build & Code 4in1 (ATmega328P microcontroller)
Power supply voltage: 5 V
Input voltage (recommended): 7-12 V
Input voltage (threshold): 6-20 V
12 digital I/O pins
7 PPM digital I/O contacts
6 analogue input contacts
DC current per I/O contact: 20 mA
Tactical frequency: 16 MHz
Communication - Bluetooth 2.0
DC direct motor connectionProgrammable in blocks using Arduino IDE, BitBloq and other visual programming software Compatible with Mac OS, Windows and Linux
Package contents:
1x Build & Code 4in1
30x screws "M3*16"
30x nuts "M3"
6x nylon gaskets "M3*3"
30x locking rings "M3"
1 x analogue light sensor
1x potentiometer
1x red LED
1x green LED -1x LED for RGM colours
1x beacon
1x button
1x executive motor
1x LCD display with I2C
1x USB - Micro USB cable
1x hexagonal key