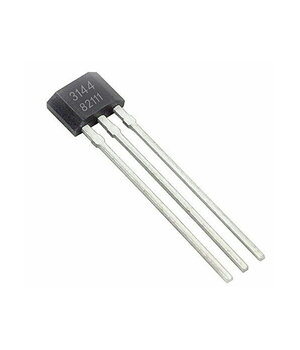 A3114 Hall sensor TO92
Code
M3114
E-shop price: 1,50 €
| | | |
| --- | --- | --- |
| Amount: | 5+ | 10+ |
| Price: | 1,34 | 1,26 |
| | | |
Minimum order: 1 Repeatability : 1
Item location:
Central warehouse in Kaunas
Item available (2)
Shop in Vilnius
Item available (4)
Shop in Kaunas
Item available (5)
---
Item description
Digital Output Hall-effect sensor. It is typically used to calculate the speed of an engine or the wheels of a car, e.g. for the ABS system.
The A3144 Hall sensor motor speed measurement module can be used for motor speed measurement, position detection, etc.
This sensor can also be used in Arduino systems, since it is adapted to Arduino programmable boards.
Technical Data
Operating voltage: 4.5V to 28V (typically 5V)
Output Current: 25mA
Can be used to detect both the poles of a magnet
Output voltage is equal to operating voltage
Operating temperature: -40°C to 85°C
Turn on and Turn off time is 2uS each
Inbuilt reverse polarity protection
Suitable for Automotive and Industrial Applications
Specification