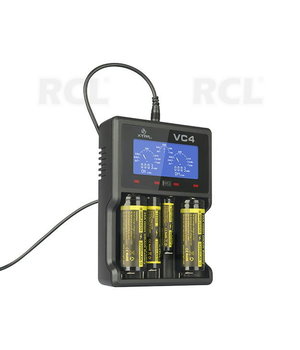 ĮKROVIKLIS akumuliat. Li-Ion Ni-MH VC4
Kodas
AILVC4
Eshop kaina: 25,90 €
| | | |
| --- | --- | --- |
| Kiekis: | 3+ | 5+ |
| Kaina: | 24,61 | 24,09 |
| | | |
Min. užsakymas: 1 Kartotinumas: 1
Prekės buvimo vietos:
Biuras/Centrinis sandėlis Kaune
Prekę turime (3)
Parduotuvė Vilniuje, Ukmergės g. 222
Prekę turime (1)
Parduotuvė Kaune, Savanorių pr. 241
Prekę turime (1)
---
Prekės aprašymas
This intelligent charger can recognize, charge, and display charging current, battery voltage, and charge capacity of both Ni-MH and Li-ion batteries at the same time! This is a USB powered charger so it can be plugged into any of your existing AC USB wall adapter plugs (e.g. Apple, Samsung, etc.)
The charger is compatible with:
10440/14500/14650/16340/17500/17670/18350/18490/18500/18650/18700/22650/25500/26650/32650 3.6V/3.7V Li-ion and AAAA/AAA/AA/A/SC/C/D. and Ni-MH/Ni-CD batteries so there's no need to buy a separate charger for each battery type.
The basic kit includes:
- XTAR VC4 charger
- USB charge cable
- Retail packaging
- Premium pouch
- User manual
Features:
1. Innovative LCD screen displays charging current, battery voltage, and charging capacity. It can also intelligently recognize and charge Ni-MH and Li-ion batteries and clearly display this information.
2. Intelligently identify a battery's input power and automatically adjust suitable charging method and charging current from 0.1A to 1.0A and up to 0.5A4 / 1.0A2 max.
3. Three charging stages (TC-CC-CV) can prolong your batterie's life.
4. Soft start will prevent any sudden current spikes which is used to prolong battery lifespan.
5. The charger can tell you the real capacity of your batteries.
Worry-free Charging:
1. Automatically stops charging when battery is fully charged and will automatically start charging again if the battery falls below 3.9V. This allows you to keep the batteries inside the charger overnight.
2. Intelligently identifies bad batteries by showing "null" and "Err" if reverse polarity has been detected.
3. ABS durable fireproof shell with perfect heat dissipation and high temperature resistance.
Specifikacija