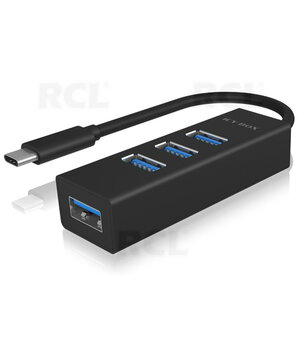 USB-C Type 3.0 ŠAKOTUVAS IB-HUB1419-C3 4portų, RaidSonic
Kodas
AKOM16
Eshop kaina: 17,90 €
| | | |
| --- | --- | --- |
| Kiekis: | 2+ | 4+ |
| Kaina: | 17,00 | 15,85 |
| | | |
Min. užsakymas: 1 Kartotinumas: 1
Prekės buvimo vietos:
Biuras/Centrinis sandėlis Kaune
Prekę turime (2)
Parduotuvė Vilniuje, Ukmergės g. 222
Prekę turime (1)
Parduotuvė Kaune, Savanorių pr. 241
Prekę turime (1)
---
Prekės aprašymas
Features:
High-grade aluminium enclosure
Integrated USB Type-C® cable – length 15 cm
USB 3.0 with transfer rates of up to 5 Gbit/s
Parallel use of several USB devices
Small size - ideal for on the go
A handy companion:
- The small USB 3.0 Type-C® hub extends your connectivity by four interfaces and even fits in your pocket. The integrated USB 3.0 cable allows you to connect without having to carry other cables.
Integrated cable:
- The question of the right connection cable is fortunately obsolete with this hub. No misplacing, no borrowing possible, the cable sits firmly on the hub.
Quadruple USB power:
- You want to share your favourite holiday pictures with friends and family? No problem! The USB 3.0 standard makes it possible to transfer data to several devices at the same time at up to 5 Gbit/s - without having to repeatedly plug in different storage media. This not only saves time, but is also very convenient
Simple - chic:
- The clean design made of aluminium makes the IB-HUB1419-C3 particularly light but still robust. With these features, the hub is the ideal companion for on the go. The sandblasted surface gives the housing a high-quality look
Specifications:
Technical Data:
- Category: USB Hub
- Material: Aluminium
- External data interface: 4x USB 3.0 Type-A
- Transfer rate: Up to 5 Gbit/s
- Plug & Play
- Operating system: Windows®, macOS®
- Input: USB 3.0 Type-C® integrated cable
- LED: Power and access
- Cable length: 15 cm
- Power connector: Bus-powered
Specifikacija