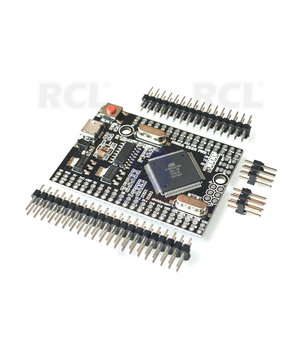 Mega2560 Pro ATmega2560-16AU USB CH340G Intelligent Electronic Development Board
Code
ABRMEGA01
E-shop price: 19,90 €
| | | |
| --- | --- | --- |
| Amount: | 4+ | 8+ |
| Price: | 18,91 | 18,71 |
| | | |
Minimum order: 1 Repeatability : 1
Item location:
Central warehouse in Kaunas
Item available (2)
Shop in Vilnius
Item available (1)
Shop in Kaunas
Item available (1)
---
Item description
Giving a stable result of data exchange when you work in the frequency 12MHz (need install drivers to computer).
Mega PRO (Embed) 2560 CH340G/ATmega2560 - connects to the computer via micro USB cable.
You can supply power to board through the Micro USB connector or to power pin headers.
The voltage regulator (LDO) can deal with incoming voltage from 6V to 9V (peak 12V) DC.
Output current: 5V/800mA, 3.3V/800mA (Please note that the higher the input voltage the lower the outgoing current).
That will provide a reliable power most of your initial projects.
Feature:
Microcontroller: ATmega2560
Operating Voltage: 5V
Input Voltage (recommended): 6-9V
Input Voltage (limit): 12V
Digital I/O Pins: 54 (of which 15 provide PWM output)
Analog Input Pins: 16
DC Current for 5V Pin: 800 mA
DC Current for 3.3V Pin: 800 mA
Flash Memory: 256 KB of which 8 KB used by bootloader
SRAM: 8 KB
EEPROM: 4 KB
Clock Speed: 16 MHz
Built-in LED: 13