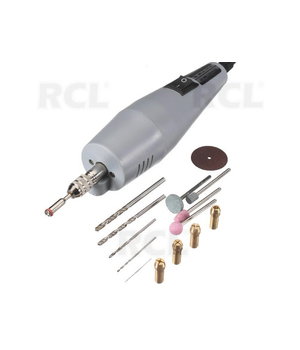 Mini Super Electric Drill Grinder Sets with Power Adapter DC 12V
Code
IIGR01
E-shop price: 18,00 €
| | | |
| --- | --- | --- |
| Amount: | 3+ | 5+ |
| Price: | 16,56 | 15,55 |
| | | 17,10 |
Minimum order: 1 Repeatability : 1
Item location:
Central warehouse in Kaunas
Item available (9)
Shop in Vilnius
Item available (1)
Shop in Kaunas
Item available (1)
---
Item description
Electric Grinders Sets
Input: AC 220 V, 50 Hz
Output: DC 12V, 0.8A
Chuck: 0.5-3.0mm
Packing size: 215x150x70mm
Electro size Drill: App 160x40mm
Cable Length: 0.9m App
Features:
- A universal tool, equipped with a precision high-speed replaceable steel drill bit (0.5--3.0 mm)
- Suitable for drilling, grinding, polishing, cutting, etc.
- Exquisite design, comfortable grip.
- Made of ABS plastic, light weight, suitable for long time work
- It can change chuck quickly, without any tools
- Can change different drilling and chuck, can drill holes of different aperture
- Small volume, light weight, easy to carry
- Electric drill can use for model repair processing grinding, at the same time for aluminum,
thin copper, wood, plastic board, fibreboard, printed circuit board, epoxy board, such as drilling.
Package Included:
1 x Mini Grinder
5 x High Speed Steel Drills (0.5, 1.0, 1.5, 2.5, 3.0 mm diameter)
5 x Brass clamping clamps (diameter 0.5, 1.0, 1.5, 2.5, 3.0 mm)
4 x Arbor grinding wheels
1 x Super Thin Grinding Wheels
1 x Power Adapter
1 x Suitcase