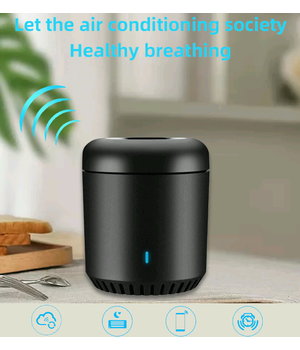 IŠMANUSIS IR WiFi nuotol. valdymo pultas Broadlink RM Mini 3 Black Bean
Kodas
ABESP10
Eshop kaina: 22,70 €
| | | |
| --- | --- | --- |
| Kiekis: | 3+ | 5+ |
| Kaina: | 22,25 | 22,02 |
| | | |
Min. užsakymas: 1 Kartotinumas: 1
Prekės buvimo vietos:
Biuras/Centrinis sandėlis Kaune
Prekės neturime (0)
Parduotuvė Vilniuje
Prekės neturime (0)
Parduotuvė Kaune
Prekės neturime (0)
---
Prekės aprašymas
Our philosophy: As long as you know the size of your house, the mobile phone remote control can control all the electronic products in your home. We can design the mobile phone remote control electronic products for your house through the smart phone.

Important note: IR signals cannot penetrate the wall and RF signals can penetrate the wall.
About BroadLink RM MINI3 (WIFI+IR) The Broadlink RM Mini3 is an universal remote for you to control infrared appliances through your smartphone.
Product Name: Black Bean
Model Number: RM Mini3
Function: WIFI+IR
Support System: IOS 7.0/ Android 4.0+
Compatible Models: IPHONE 6, IPHONE 5S ,IPHONE 5 , IPHONE 4,IPHONE 6 6s plus, IPHONE 7 7s plus, IPHONE 8 and so on.
Support: IR controlled devices
Support Wifi 2.4GHz b/g/n: Yes
Infrared Radiation: 38K
Working temperature: 0~50 degrees
Working humidity: less than 85%
Max. Current: 0.5A
Support all IR controlled devices such as TV, Air condition, DVD and etc
Support Wifi 2.4GHz b/g/
Support Apps for Android 4.0 and IOS 7.0 or Above
Control your TV by your smart phone via interne
You can set the boot time of TV/Air condition/DVD in advanc
Support auto modes, AUTO HOME and AUTO AWAYA 7.Large IR database that over 98% IR remote function. Supports 50,000+ IR (IR only, no RF, compared with RM PRO) controlled devices, including your TV, DVD, audio, Air Conditioner, satellite, PVR and more o ption to program your devices features if certain cloud data is unavailable.