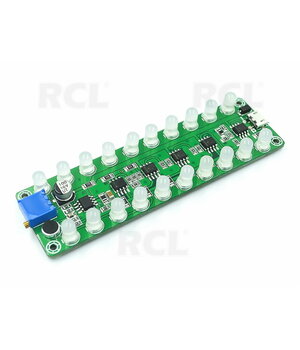 Voice-activated Power Amplifier Spectrum Audio Level Meter, LED 3 color Indicator
Code
ABI009
E-shop price: 8,80 €
| | | |
| --- | --- | --- |
| Amount: | 3+ | 5+ |
| Price: | 8,10 | 8,01 |
| | | |
Minimum order: 1 Repeatability : 1
Item location:
Central warehouse in Kaunas
Item available (1)
Shop in Vilnius
Item available (1)
Shop in Kaunas
Item available (1)
---
Item description
The louder the sound, the more the LED lights up from bottom to top. As the sound rises and falls, the LED will also jump with the music, especially when playing DJ. It is more interesting.
The use of an independent comparator circuit is slightly more complicated, but its structure and principle are easier to understand.
Equipped with anti-reverse protection diode, which can effectively prevent the circuit from being burned out due to reverse polarity of the power supply, which is more suitable for DIY.
The red and black wires on the board must be connected to a power supply between 5V and 12V low-voltage DC, and must not be connected to the output of the amplifier or the speaker wire.
Regarding signal input: The board has a built-in microphone that can inductively receive external sound sources to control the blinking of the LED lamp beads. The disadvantage is that the sensitivity is not as good as the line input, and it is easily affected by other external sounds.
If line input is needed, this step is about audio signals (such as the headphone jack of a mobile phone or a computer, which cannot be connected to the output of an amplifier). You can remove the microphone and direct the signal from the microphone. If the light is on, adjust the potentiometer. (Reverse clock reduction) This connection is recommended.
LED color: red / blue / green 3 colors mixed light
Voltage: DC 5V-15V (voltage cannot exceed 16v)
Circuit board size: 100mm × 30mm