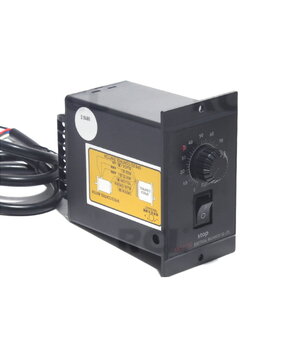 Motor speed control panel 220VAC 400W US-52
Code
ABREG08
E-shop price: 18,50 €
| | | |
| --- | --- | --- |
| Amount: | 3+ | 5+ |
| Price: | 17,57 | 17,02 |
| | | |
Minimum order: 1 Repeatability : 1
Item location:
Central warehouse in Kaunas
Item available (10)
Shop in Vilnius
Item available (1)
Shop in Kaunas
Item available (2)
---
Item description
Feature:
The speed control range of governor is 90-1400r/min and 90-1700r/min respectively at 50/60Hz.
The controller is manufactured with high quality electronic components, and its performance is stable and reliable.
The control accuracy is high and the micro-control of speed is realized.
The operation of the product is simple, which enables novices to learn and master the operation method quickly.
Widely used in packaging, printing, food, electronics, instrumentation, medical equipment, clothing industry production line as speed drive device.
Specification:
Product model: US-52
Matching power: 400W (optional)
Working power supply: AC220V 50/60HZ (Voltage fluctuation range ±10% Ue)
Use environment: -10~+50℃
Relative humidity: <90%
Speed range: 90-1400r/min 50HZ, 90-1700r/min 60Hz
Installation and usage method:
The controller has 6 lines, the black line is the main line of the , the red and white are the capacitor secondary lines, the two blue lines are the speed feedback line, and the green line is the ground line.
Turn off the power, connect according to the wiring diagram and confirm that the line connection is correct, do not arbitrarily modify it;
Set the external speed knob to "0" before use to avoid transient high currents and damage the controller.
This product is controlled by generator feedback voltage, and the control line is divided into two lines: "blue" and "yellow".
When the governor is connected to the and found that the torque or speed does not meet the requirements, the US-52 adjusts the side trimmer potentiometer (speed setting adjustment).
To change the direction of operation, simply replace the jumper "CCW" and "CW" on the wiring on the back of the controller.
The action switch only controls the to operate or stop, and does not use the power supply for interruption. If it is not used for a long time, please turn off the power.