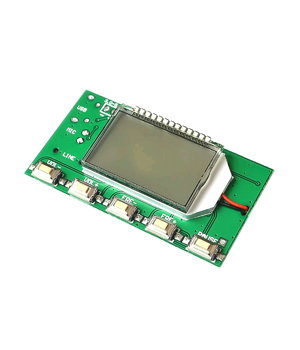 FM Stereo Transmitter PLL 87-108MHz
Code
ABRM33
E-shop price: 8,70 €
| | | |
| --- | --- | --- |
| Amount: | 3+ | 5+ |
| Price: | 8,44 | 8,35 |
| | | |
Minimum order: 1 Repeatability : 1
Item location:
Central warehouse in Kaunas
Item available (1)
Shop in Vilnius
Item available (1)
Shop in Kaunas
Item available (2)
---
Item description
Output power: 500mW (drive headphones), 3W (drive speakers)
Frequency range: 50Hz-18KHz
Receiving frequency:
Close campus radio 87.0MHz-108.0MHz, open campus radio 76.0MHz-108.0MHz
Equivalent noise: 30dB
Supply voltage: 3.0V-5.0V
Supply Current: maximum volume 400mA, minimum volume under 50mA (for reference only)
Channel: speaker (mono), headphone (stereo)
Product Features:
the use of advanced digital audio signal processing (DSP) technology and FM modulation phase-locked loop (PLL) to make sound more realistic, more stable performance, long working hours without frequency offset.
LCD display is more intuitive and accurate, with very low power consumption and minimal noise interference.
with automatic station search and store radio features, easy to operate and use.
Built-in 30 digital volume adjustment, the key operation can be easily completed.
automatic power-down data memory before the power failure.
speaker / headphone output automatic switching
supports serial AT commands.
quartz crystal frequency stabilization, the temperature change is no longer transmitting frequency drift.
Auto search for full-band signal has a frequency band and store memories.
You can set the threshold processing DSP digital squelch, no signal automatically muted, away from the traditional FM radio irritability rustle (requires the user to open the static noise function module).