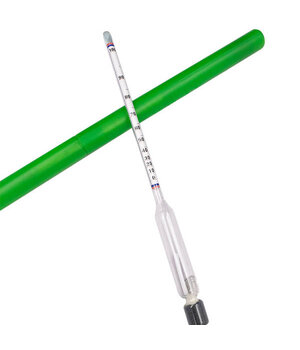 Alcohol concentration meter 0-100%, glass
Code
ATIAM01
E-shop price: 2,90 €
| | | |
| --- | --- | --- |
| Amount: | 3+ | 5+ |
| Price: | 2,58 | 2,38 |
| | | |
Minimum order: 1 Repeatability : 1
Item location:
Central warehouse in Kaunas
Item is not available (0)
Shop in Vilnius
Item available (1)
Shop in Kaunas
Item available (1)
---
Item description
The alcohol meter measures the alcohol concentration on a scale from 0 to 100%.
We can only get a reliable measurement in alcohol and pure vodka.
Alcohols containing additives or sweeteners, i.e. sugar, glucose, fructose will not be measured reliably.
The spirit meter is calibrated at 20°C, which means that measurements must be taken when the alcohol being tested is at that temperature. In this case the readings on the vertical scale of the areometer are real.
Technical Data
Scale: 0-100%
Length: ∼270 mm
Diameter: 16 mm