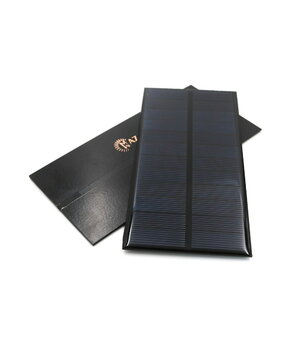 PHOTOVOLTIC SOLAR MODULE 5V 150mA, 60x90mm
Code
BSE006
E-shop price: 3,80 €
| | | |
| --- | --- | --- |
| Amount: | 5+ | 10+ |
| Price: | 3,50 | 3,32 |
| | | |
Minimum order: 1 Repeatability : 1
Item location:
Central warehouse in Kaunas
Item is not available (0)
Shop in Vilnius
Item is not available (0)
Shop in Kaunas
Item available (4)
---
Item description
Material: polysilicon +resin
Size: 60x90mm
Voltage: 5V
Power: 0.75W
The product has high conversion rate and high efficiency output
High quality with high light transmittance and unique technology make components beautiful and strong against wind and snow.
It is easy to install and adopt specific technology to avoid freezing and deformation of the water in the frame.
It is mainly applied to solar courtyard lighting, small household lighting street lighting equipment. It can also be applied to household low power appliances and DIY toys power supply, etc.