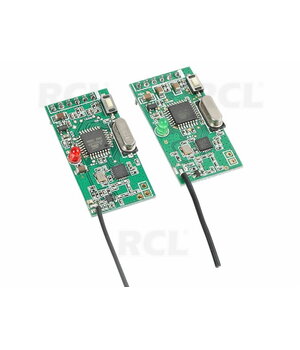 2.4G wireless digital audio module
Код
ABRF02
Цена Eshop: 34,80 €
| | | |
| --- | --- | --- |
| Количество: | 3+ | 5+ |
| Цена: | 33,06 | 32,71 |
| | | |
Минимум заказа: 1 Кратность: 1
Расположение товара:
Центральный склад в Каунасе
Товар есть (4)
Магазин в Вильнюсе
Товар есть (1)
Магазин в Каунасе
Товар есть (1)
---
Описание товара
Using the latest 2.4G wireless transmission technology, 44.1K sampling rate, 24bitAD sampling to achieve lossless high-fidelity digital audio transmission, 16 optional working channels. The farthest distance is 100 meters in open ground. One receiving and one sending can form a wireless audio transceiver system, which is simple and convenient.
Function Description:
Input signal: analog tone
Output signal: analog audio
Working voltage: 5V
GFSK digital modulation/demodulation method
20Hz~20KHz frequency response
90dB audio dynamic range
85dBm receiving sensitivity, 45dB adjacent channel rejection, 30dB image rejection
20Hz~20KHz frequency response
44.1K digital audio sampling rate, 24bit sample quantization level
Long transmission distance: Stereo audio data can be transmitted in an open area greater than 100 meters (static point-to-point)
Support multiple transmission modes of point-to-point and point-to-multipoint (both one sending and multiple simultaneous receiving)
Key pair code, can support multiple groups of non-interference parallel work at the same time.
Multiple alternative frequency bands, easy to avoid interference frequencies: The product works in the 2.4GHz ISM  (ie industrial, scientific, medical) frequency band, with 16 optional frequency points, which can meet the needs of multi-frequency and frequency hopping; to avoid The interference that is prone to occur in the 2.4GHz public frequency band affects the sound quality. This product provides a frequency selection function. If the product has strong noise during operation, that is, when there is interference at the current frequency point that affects the output sound quality, A new working frequency can be selected to maintain the good use effect of the product.